Details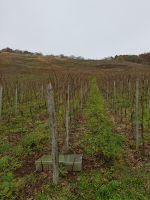 The Continental regional groupof the Diverfarming project informed students of the Mosel-viniculture school Bernkastel-Kues about cover crops and diversification in steep slope vineyards.
Details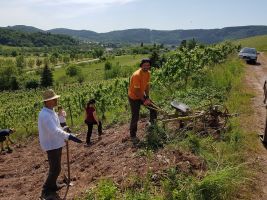 The Continental regional groupof the Diverfarming project informed German and Luxembourgian winemakers, scientists, industry representatives and stakeholders about the progress in their case study.
The Continental regional group investigates the effects of intercropping grapevine and aromatic plants.
Details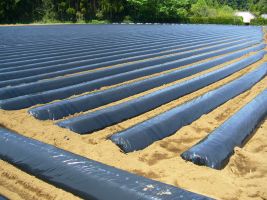 A study within the Diverfarming project analyses the interactions between 38 pesticides and three types of plastic for mulch
The use of plastic mulch (plastic covering on crop lines) is a widespread technique used in agricultural regions in order to increase the profitability of the crops. According to the European Commission, 100,000 tonnes of plastic mulch was used per year in the European Union in 2016. Taking these figures into account and the fact that after the harvest some plastic usually remains in the soil, the accumulation of plastic in territories of intensive agriculture is an environmental problem that is of concern in the sector and also for the public administrations.
Details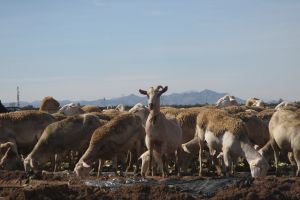 A team from the Diverfarming project has found microplastics in 92% of the faeces of sheep fed in intensive agricultural zones of Murcia that they analysed
In recent times, the increase in plastic residues has been reasserted as being a major environmental problem. This material, which is present in packaging and day-to-day objects, plays a decisive role in intensive agriculture zones.
Details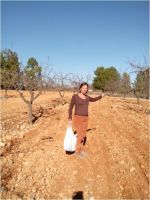 A team from the Diverfarming project has shown the efficacy of sustainable management of the soil in avoiding erosion and runoff, above all in intense rainfall events.
The desert is making inroads into the Mediterranean area. The loss of soil produced by erosion and runoff is being aggravated by a semi-arid climate in which the majority of the annual precipitation falls in very few intense rainfall events that drag the land even more. Taking into account that, according to the National Inventory of Soil Erosion (INES) of Spain, more than one third of the surface area of the country suffers from erosion qualified as 'serious' or 'very serious' means that there is an unavoidable need for actions aimed at protecting the land and agriculture which are supported on Mediterranean soils.